Next probably won't be this long, more pictures, less words.
-Mike
Cold, drizzly, at times pouring, a good send off from Columbia. Kiefer drove, heavy traffic. We stopped at a Pizza Hut/Taco Bell for lunch around 2:30. Nothing better than beans and grease just before a two day flight. Got to St. Louis, Kiefer dropped me at long term parking, met a couple headed to Oklahoma City. He helped build malls around the states. First debacle - I had a trunk with collecting equipment, a duffle bag with personal equipment, and a tube with net handles. That makes three, only two items can be shipped! And you have to pay extra regardless of size, and weight. I asked if persons checking only one bag got a discount. She couldnít understand my logic. Wandered to the proper gate and waited. Found a seat next to a pay phone make for handicapped people. These are the best, they have outlets! So I read a few articles by Clarance Darrow whilst waiting for my flight. They announced the delay of a flight for Vegas four of five times, but not for my flight. I could see over the gulf of the waiting area that my flight, scheduled to leave at 6:30pm was now advertised as leaving at 7:40pm. Not a word, but curiosity reigned. Canít leave my bag to save my seat. So I packed up, waited for an opening, sprang into action, rushed the lady at the desk, "Is it delayed?" "Yes." Mad rush back to my special seat for a plug in and a good read. Laptops are nice, wanted to keep the battery fresh for the long flight.
Zoom to San Francisco. It was night, occasional scattering of lights below. Arrived an hour late, but no worries, what once was a four hour layover became three. Scouted, got another outlet, on the wall this time.
In the big plane! Three seats, isle, four seats, isle, three seats. Past one in the morning San Francisco time. Three people in my row of three seats. I was the isle. They handed out slippers. A lady came by (saint) and directed me further back into the bowels of the jet. It was not a full flight. I got an entire row unto myself! Ate supper, stretched out, slept about five hours. Up again. Still night of course. Watched some movie, forget the title. Not a happy movie. Set in 1957-1958. Husband realizes heís gay and wife falls in love with black man. Annoying because it was supposed to take place in the fall, but they bumped up both the reds (turning leaves) and greens (grass). So it was a spring green that covered the yards, and a fall red that graced the trees. Took pictures of the moon, and sunrise over Japan. Flew more. Watched Maid in Manhattan. Didnít listen to Antwan Fisher. A couple other movies came and went, Emperors Club, etc.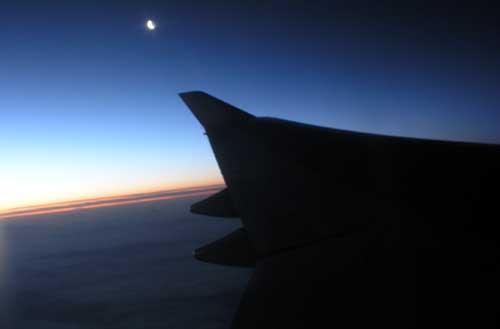 --Sunrise over Japan with the moon off the tip of the wing.
Taiwan- Many masks, but no health check. I exchanged $5 for local money and got a can of Coca-Cola for Mary and a can of Iced Coffee for me.

Landed in Bangkok. They set up a thermal camera with a monitor in the airport to scan people as they walked by. I passed, they took my temperature using a thermal strip, and ask me if I had had flu like symptoms in the past two weeks. Made it through. Received a mask for my effort. On the front was the cartoon of a guyís face with the bubble, "Please donít bite".
Went through customs, got my luggage, and headed to domestic terminals. This building is separated from the international terminals. A 480 meter enclosed skyway links the two. There was an air conditioner ever 20 feet. It was hot and muggy still. I saw the flash of a mocking bird (they have two stripes of white running laterally across the middle of their wings) then remembered that some time during the night I switched continents. Probably not a correct ID. A kind of Jay, maybe. Checked in at the counter and headed to my gate. I was on the second floor, my gate was down an escalator on the first floor. I hopped on the escalator. Air Conditioning, low humidity became 90 degrees F and 98% humidity with an altitude change of just 20 feet. Needless to say, I wandered back up stairs. Ate at Burger King, had a cheesburger and red Fanta. My flight was called, we loaded on a bus and were driven to the plane. By now my body thinks its 3:30 am and Iíve had 5 hours sleep in two days. I slept about 30 minutes in the flight. I needed a shave and shower.

-- Clouds over Thailand
The jet touched down to a large city in the flats under forest covered mountains (about 6000 ft). The air was fuzzy with smoke from the fires set by farmers. I collected my baggage and was met by Nan and two of her friends. She was wearing a black Mizzou T-shirt, and had been forwarded a picture of me by Bob. Not hard to pick out in a crowd (especially a Southeast Asia crowd), I was met with a smile. We all loaded into her car and wove through the streets. When last I was here I had driven perhaps a few thousand miles, if that. Now, having driven for 7 more years and 28,000 miles in the last 14 months I was acutely aware of how helpless I was as a passenger in the drivers side, in traffic that LA doesnít see on the worst days. Sit back and enjoy the ride!
She dropped my at the international hostel maintained by Chang Mai University. Pre air conditioning architecture, with ceilings at least 12 feet. My room was a double with bath, closet, and two short beds in one room, TV, refrigerator, and couch in the other. I showered. The water heater is a wall unit, about 18 inches, by 12 by 4. There is no tub, only a drain in the floor. Very economical, practical, and environmentally sound. After a shower and a shave I felt much better. New clothes, and I went down stairs for a red Fanta. I wandered around the building and looked at bugs. Ants everywhere, butterflies, lots of snails. Back to the room about 7pm (sun was setting). I fell asleep over the covers and awoke at ten. Akekawuat came shortly there after and took me out to eat. It was a cart by the road. For 15 Baut (50 cents) I had soup, very good. Back to the hostel for sleep.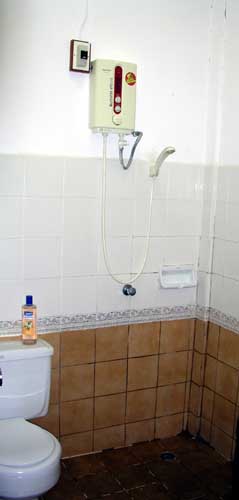 -- Honestly I had an idea for a water heater just like this. No 20 gallons of water wasting energy all day long. This only runs at about a quart a minute, but water pressure makes up for it.