---
Sorry, but everything above this line is an advertisement. Tripod puts it in there not me. One of the costs of a free website.
17 June cont.
Ayutthaya was the second (?) capital of Thailand. It is a large city which lies on an island formed (and surrounded) by the meeting of three rivers. Many temples abound, along with huge halls, and many, many statues of Buddha. Our first stop put is at a newly renovated temple. A farmer was grazing some water buffalo across the way.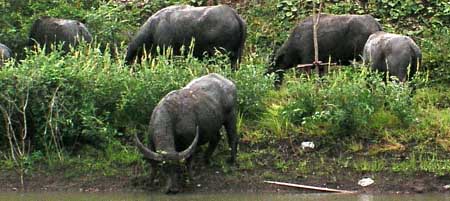 We all wandered up to the top for a look around, and for photos.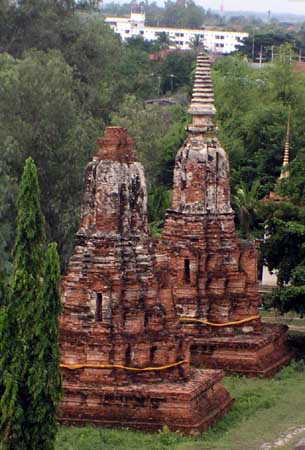 Then down to some of the older temples below. Here is a Chinese Buddha.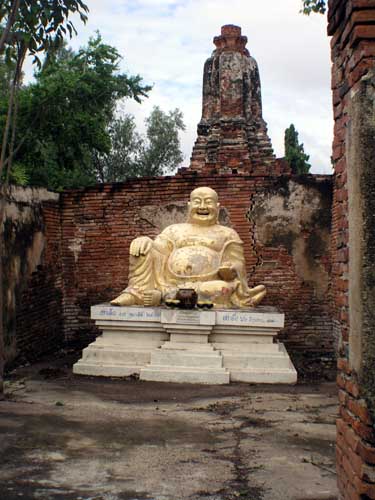 Just before we left Clair ran to the top for a photo. Sheís the black dot.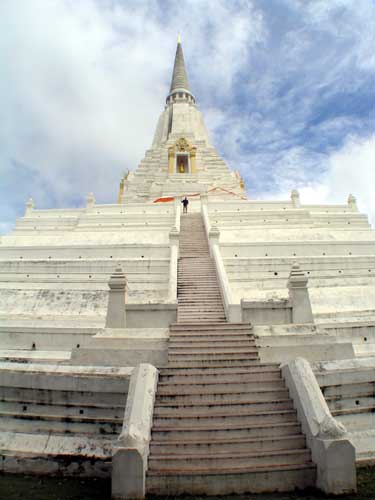 Our next stop was nice as three main styles of temples were within walking distance of one another. The first was a Burmese style temple, then a Sri Lankan, and finally a Cambodian style temple.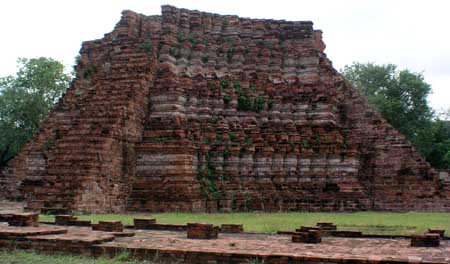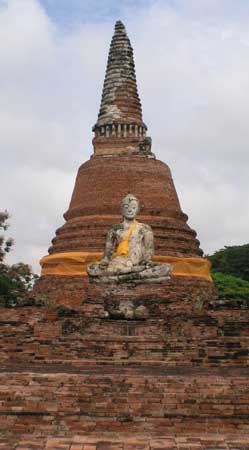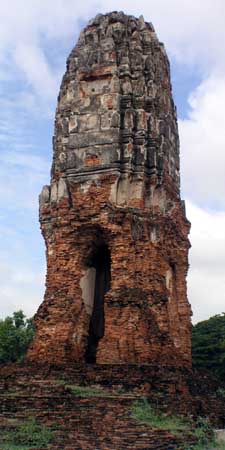 I got a picture of a Sitting Buddha.
Our next stop was the Grand Hall. A huge building which used to house a 16 meter tall Buddha. Ayutthaya was abandoned as a capital because the Burmese (Myanmar) would come over and fight all the time. The giant Buddha was burnt for its gold covering, but the bronze core was left behind. This was then removed and placed somewhere else.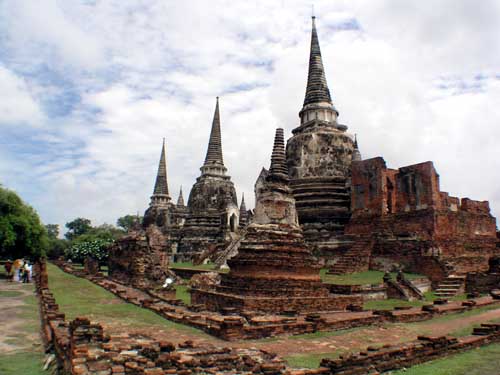 There were some elephants nearby. For 10 Baut you get a pile of bananas that you can feed the elephants. Amazingly the elephants are nice enough not to just take them away from you, and they let you hand the bananas to them which they take with their trunks, or theyíll open wide and let you put a banana directly in their mouth. Thatís Sarahís arm.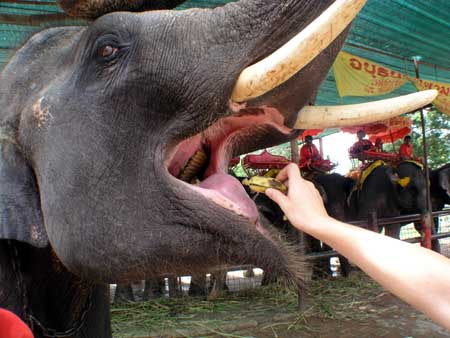 They drove us to a little restaurant on the river. Hereís the picture of the group, again.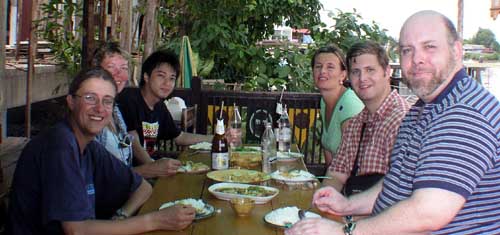 Immediately thereafter we took a boat ride around the city. I got a picture of another Cambodian style temple (my favorite style).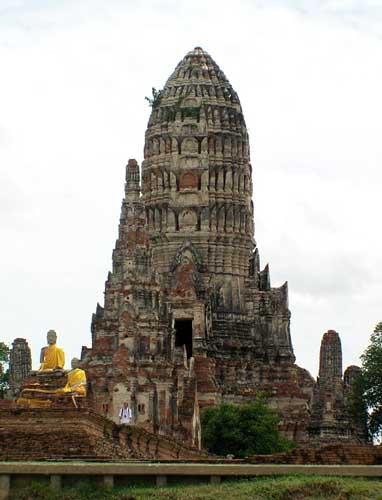 Afterwards we went to another set of ruins which represented a huge complex of temples. I got a picture of a fig overgrowing a Buddha image. This is the same sight that graces the front cover of the little booklet which tells the history of the region.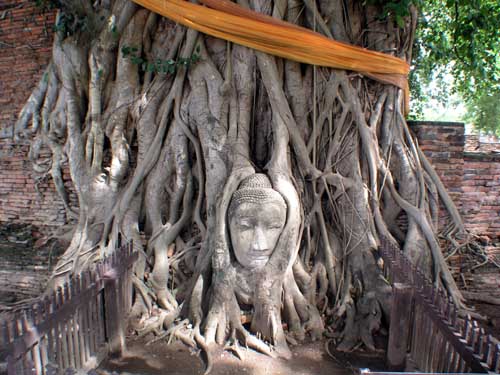 We were stopped by the tourist police there. I was detained the longest. This was day 7 of a 10 day training deal for the tourist police and they were stopping English speaking persons so they could practice speaking English. So I ran through a ritual of Whatís your name, Where are you from, Would you sign your name here, with about 5 or 6 guys. I taught them Where is the restroom/bathroom/loo? They didnít want to talk with the Limeys! Apparently the British accent is hard for Thais to understand. Iíve had a couple people mention this, but they tell me Scottish is the worst!
On the way back home we crossed Rama VIII bridge. Here is a hurried photo of the main mast from out the window of the van.

18 June
Second day of tours, I was scheduled to go to the Ancient City and the Crocodile Farm. Twice before I had asked for a wake up call and received one, so I did the same the night before. At 6:20am I get a call, Weíre here to pick you up! Iím dressed and downstairs by 6:25. The van takes me to a hotel and leaves me with a very nice lady who will be my guide today. Apparently I was the only one booked for the tour, so they grabbed her from the office to take me! A very nice lady, she spoke English very well and used to lead tours years ago. So off to the Ancient City, which had been built 40 years ago. Hereís the story as was told to me. The man who owns (or owned) Mercedes-Benz donated money to have this built. Situated over a hundred acres or more, all of the significant buildings and places in Thailandís past and present are recreated and arranged so as to allow the traveler to "visit all of Thailand in one day". Here are some pictures I got on the tour. A city gate, a few bridges, a deer, and some temples (one with the sky altered in photoshop), and a "self portrait" mostly of my nose though.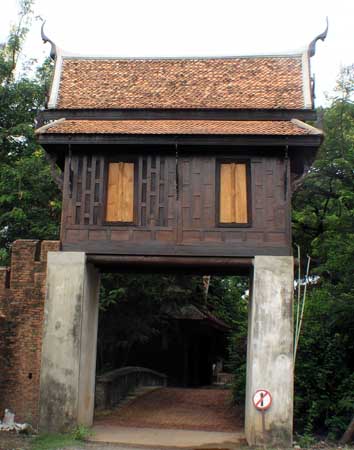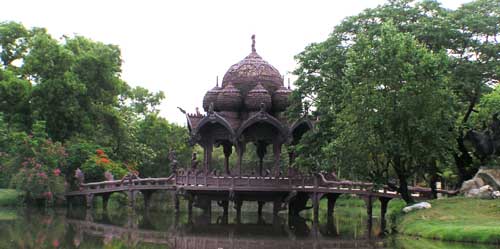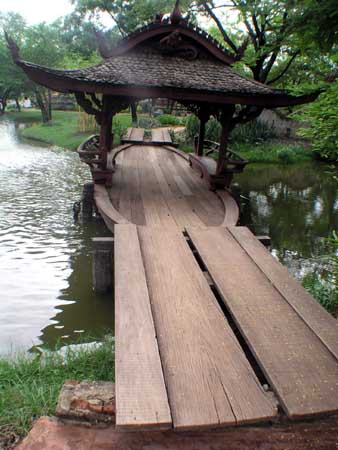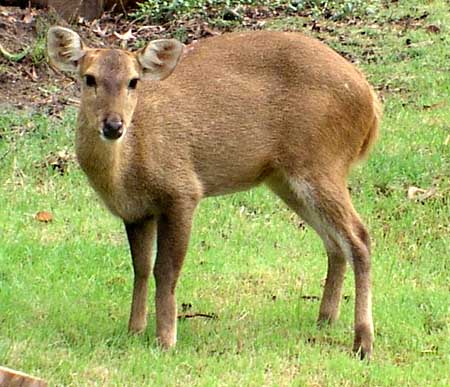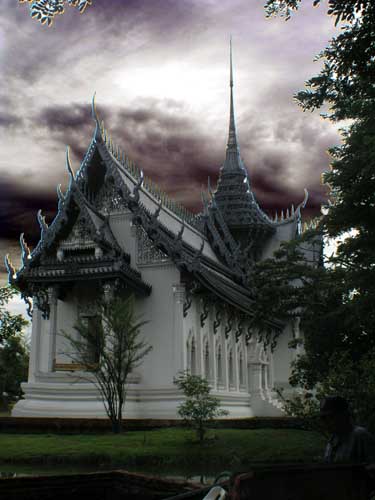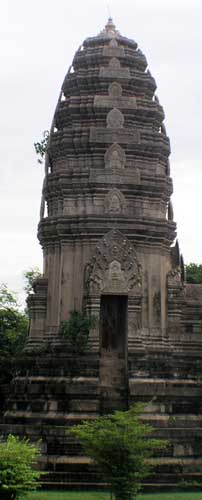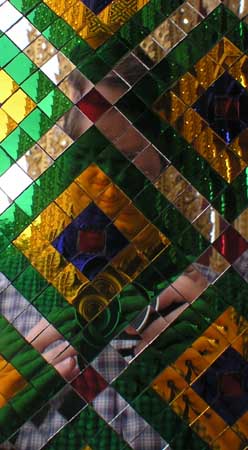 On the way to the Ancient City we passed a HUGE statue of a three headed elephant. This is my favorite of symbols that you see around Thailand so I asked my personal (LOL) guide if we could stop by on the way home. All we had time to do was pull in, get a brochure, and leave. Never-the-less, I got a good picture. If you look closely halfway between the fore and hind legs there is a dark square. In the original there are little people waving from there. Notice also the truck parked in front of the statue for scale. This was funded by a man who wished to obtain and preserve Thai items of historical and cultural significance.
My guide dropped me at a hotel where myself and three other guys were picked up for the next tour. Iím pretty sure the guys were Chinese, but they were from LA here on vacation. Happy funny little guys. The rest of the group was a large family from Singapore. Decision making required everyone to talk simultaneously for about ten minutes. So they are a family like any other. We went to the Crocodile Farm and Elephant show. The prices at this place were nearly on par with the US! I had a pretty good buffet lunch then we went in for the elephant show. This is a very good show. They explain the uses of elephants in Thailand through history. They are trained very well, and the elephants seem to really like performing for the crowd. They lined them all up and each elephant did a head stand, but when we came to the three year old baby, he fell over! Later he got it right, and as they were headed off stage another one did two or three headstands! It was fun. They stage a mock battle with very good pyrotechnics, and the elephants do a very good job.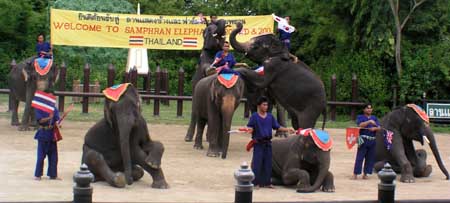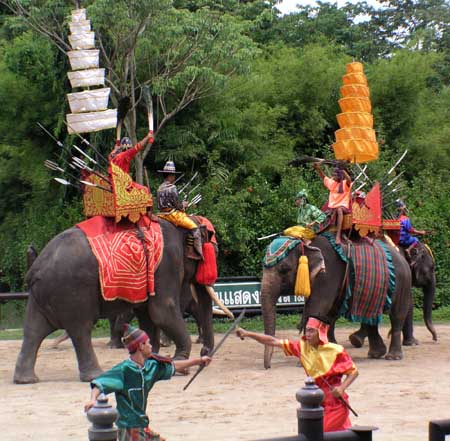 Immediately afterward there was the Crocodile show. Two happy little guys in the pit with several crocs. The main stunts were putting their heads in the crocodiles mouth and their arms in the crocs mouth past the elbow! Amazing.

The rest of the time we got to wander around the park. They have large pits full of crocs sitting around.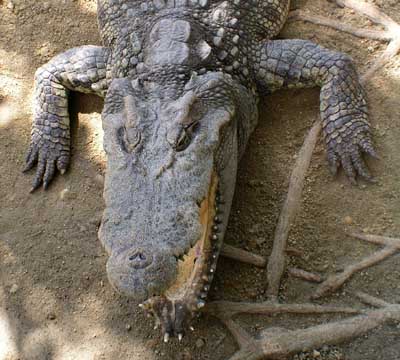 A mother and very new baby elephant were out for display. Mom really wanted bananas so I got her two bundles. The trainer played with the baby a bit and I got some pics and a short movie. Just like a VERY big puppy.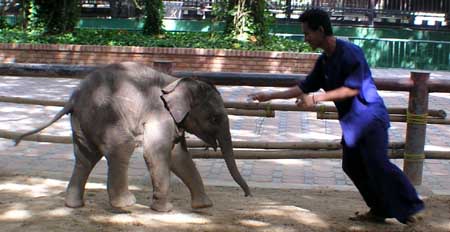 Just before I left I got this picture of a giant seat. Its made from part of the root system of a giant tree. The portion that you sit on is the trunk, the large flanges on each side are buttresses and the mesh of wood that is pointed up are the roots. This gives you a perspective how shallow root systems are over here (with less than one foot of topsoil).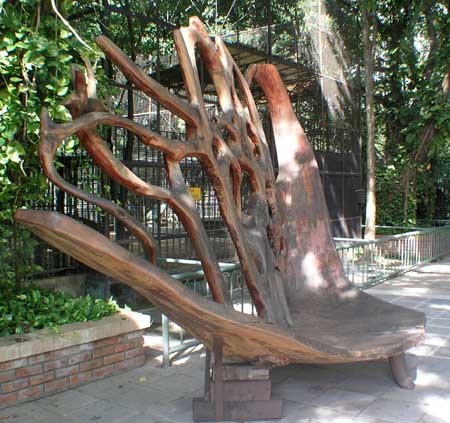 19 June
Shopping of course. A picks me up. We head first to his grandparents house and he and his mother visit a monk. We run out and pick up Rose. Then head to Pontip Plaze. Another huge mall (have I mentioned that malls over here are 3 to 4 times to size of malls in the US?). Well, this mall is about 7 stories high with an open core. They specialize in computer and technology related items. The best place to buy DVDs is in the back corner on the top floor. We hit every camera shop looking for a lense I was after, but no one had it. When we made it to the top floor it was empty. Just a few people loitering around. A and Rose speak the language and found out that there was a police raid at an illegal DVD store on the first floor. So down we went to see the action! The building is open core so all the balconies were lined with onlookers all the way to the top. The cops were busy confiscating things, but I guess the guy had gotten away. We waited around for them to leave, and headed back up the to top floor. Merchandise started to drift back in, but a cop walked through and it disappeared instantly! Finally we went to another mall for some other stuff. When we came back by a few hours later the cops were gone and everyone was back in business (including the place that was raided a few hours before!). They movies that havenít been released yet! And some really nice computer programs. If you decide to buy, you place an order, pay your money and get a receipt. Fifteen minutes later the merchandise shows up (from somewhere) and you go on your way.
I only took three pictures today and they were of an intersection. Sorry I donít have more sweeping photos of the skyline of Bangkok, but the curvature of the earth wonít allow it. Bangkok is huge with skyscrapers spaced far and wide, not bunched like most American cities. I asked Aís younger sister if she had ever been to the US. Sheíd spent a year in New York City once. She thought it was a nice little town! In the picture below you can see the streets on the ground. The sky train is blue in the middle and another line of it is above the one you can see. Additionally the dark concrete across the top of the picture is an elevated 4 lane highway. Bangkok will also have a subway operating by April of 2004!!!!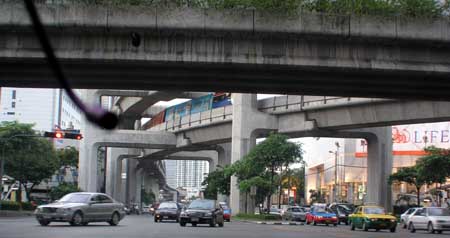 20 June
I take a taxi to meet A and his younger sister where we take a boat ride to get on the sky train so it will take us to the mall. A nice temple along the river-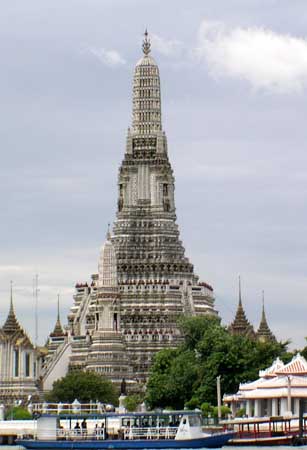 The big box of bugs I accidently got wonít fit in any carry on luggage so I need a bigger suitcase. I ended up getting one big enough to put a body in! A sends me back to the hotel and I drop off my luggage. Then I head to the Beer Chang building (the one that looks like an elephant) because there is a geocache nearby. If youíre not familiar with this, geocaching is when you hide something (a tupperware container, ammo can, etc.) and use you GPS to get its latitude and longitude. Then you go to geocaching.com on the internet and post those coordinates and some information about the area for people to see. Before I left Missouri I knew about his cache (and others) in Thailand (it is a global sport). The taxi driver drops me off at the building and Iím about 6 tenths of a mile away, so I wander toward the cache. Down one alley, then back out, down another, then back out until I find an entrance to the park where its hidden. At first I figured it was gone, a pretty barren place to hide a cache, but I found it!! First finder too, so far as I could tell. I signed the log book with my name (spongy_mesophyll) and the date. There are also things called travel coins and travel bugs that you can pass from cache to cache and the computer keeps track of where they have been and how far they have traveled. I collected a travel coin from here in Missouri, I typed in its serial number to prove that I had it, and then reported that I had left it a this cache in Thailand. So the computer says that its traveled over 8,700 miles in one hop!! I picked up another travel bug from this cache and will "release" it here in Missouri.
Here is a picture of where the cache was hidden, a clear plastic container under the rock at the base of the tree. And here is a picture from the cache site, the Beer Chang building is on the far right.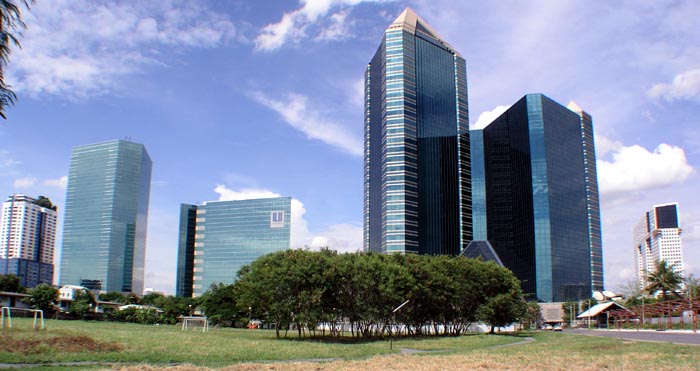 Back to the hotel and then a quick walk to the zoo. I enlisted the help of Mr. Kiefer (my roommate) to make a copper medallion with a secret number on it. A bit of stalking about, some JB Weld and it is now a permeant fixture at the Duset Zoo, Bangkok, Thailand. I will list this on the geocaching website and allow people to log a find if they can tell me the secret number. My own Thai geocache!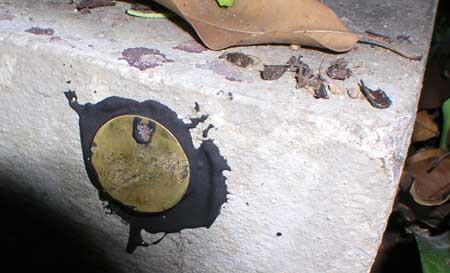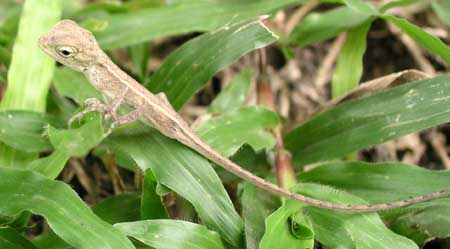 21 June
A day for writing logs and packing. I wandered back by the zoo for lunch to check on my installation of the day before. It was fine. I wrapped and double wrapped everything, and completely filled my suitcase.
22 June
Headed home. The best part of the day was while waiting in line at Bangkok International Airport a young man ask me if I could take a picture for him. I said yes. Well, he was part of a tour group probably from Singapore or Taiwan of about 25 people. Cameras erupted from everywhere! I took at least 20 pictures, grab a camera, back up, frame the shot, take the shot, dart back in grab another camera, repeat. And the last picture I took was with my own camera.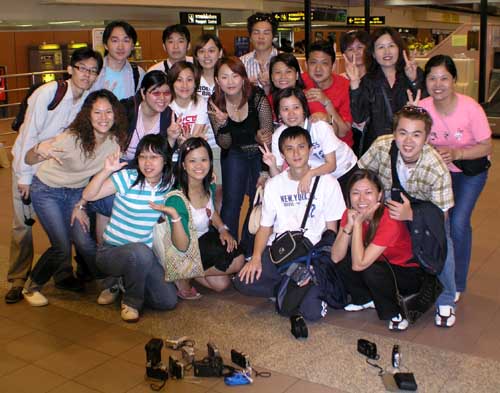 We had fun with customs. President Bush has called them our "Front line of defense against terrorists." All I can say is that we are screwed, ladies and gentlemen, totally screwed. San Francisco INTERNATIONAL Airport - "We have insect specimens and we need to speak with someone from Fish and Wildlife." "Well, heís not hear right now and his cell phone is off, its Sunday you know." What!!! WHAT!!! INTERNATIONAL AIRPORT ladies and gentlemen, Sunday, One Guy???! I wonít tell you the rest, or about the asinine measures they take (and donít take) at security (they waved the metal detector wand over the soles of my bare feet, but did not at any time check my hair or in my mouth). We are all screwed.
Anyway made it back home and alive. One of Aís bags was lost somewhere in LA, so hopefully it will make it back here some time. Aea was there with a big van to haul us home. I got a shot of her in the rearview mirror while she was driving. Not a bad pic to end my Thai Adventure.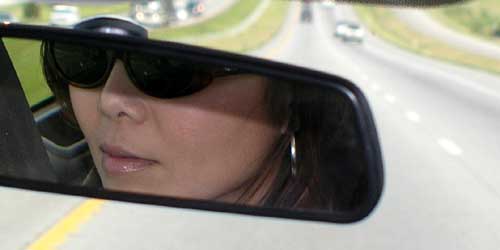 Mike